Two-time IOC Refugee Olympic Team member Yusra Mardini has life experience well beyond her 24 years.
After fleeing war-torn Syria in 2015, the national swimmer survived a near-death experience on the treacherous boat journey to Europe.
After settling in Berlin, Germany, she had to learn a new language and build a new life.
Swimming became Mardini's salvation, and one year later the former Syria international representative was selected for the first-ever Refugee Olympic Team at the Rio 2016 Olympic Games.
"It's crazy because "I feel like I've lived two lives. And more has happened in the past five years since I left Syria, than the first 17 put together," Yusra Mardini told Olympics.com.
"I sometimes feel like I'm 50 years old because of everything that has happened. But I have learnt from everything; going from this little girl that just focused on swimming and winning gold medals to escaping war and representing millions around the world, that has opened my eyes so much and changed the way I think."
Tomorrow, 23 November, a movie called "The Swimmers", that depicts her incredible story, is being released.
The inspiring story of Yusra Mardini continues to hearten people all around the world
Yusra Mardini: "I've also learnt a lot about caring for other people"
Even after being selected for the IOC Refugee Olympic Team for Rio 2016, Mardini's focus was still on winning a medal.
But that all changed as soon as she stepped out into the packed Maracana Stadium for the Opening Ceremony.
"The moment I entered the stadium with this team, I saw everyone standing up. I saw the president stand up. I had goosebumps. And I will never forget that moment," Mardini continued to Olympics.com
"That was when I realised that it's not about me, it's about millions of people around the world. We received so many messages from refugees and we realised that we had a responsibility to help them all. Bringing hope to people is now way more important to me than winning the gold medal.
"I honestly cared only about myself when I was younger. While I'm still super competitive in the pool, I've also learnt a lot about caring for other people. I learnt a lot about diversity, I learnt a lot about how we really are stronger together."
Yusra Mardini: My Rio Highlights
Why the IOC Refugee Olympic Team matters
Mardini's story went viral and in 2017, the 19-year-old became the youngest ever Goodwill Ambassador for the UNHCR, the United Nations Refugee Agency.
She travelled to Japan, Jordan, and Sicily to speak with refugees, and used her platform to draw attention to their stories.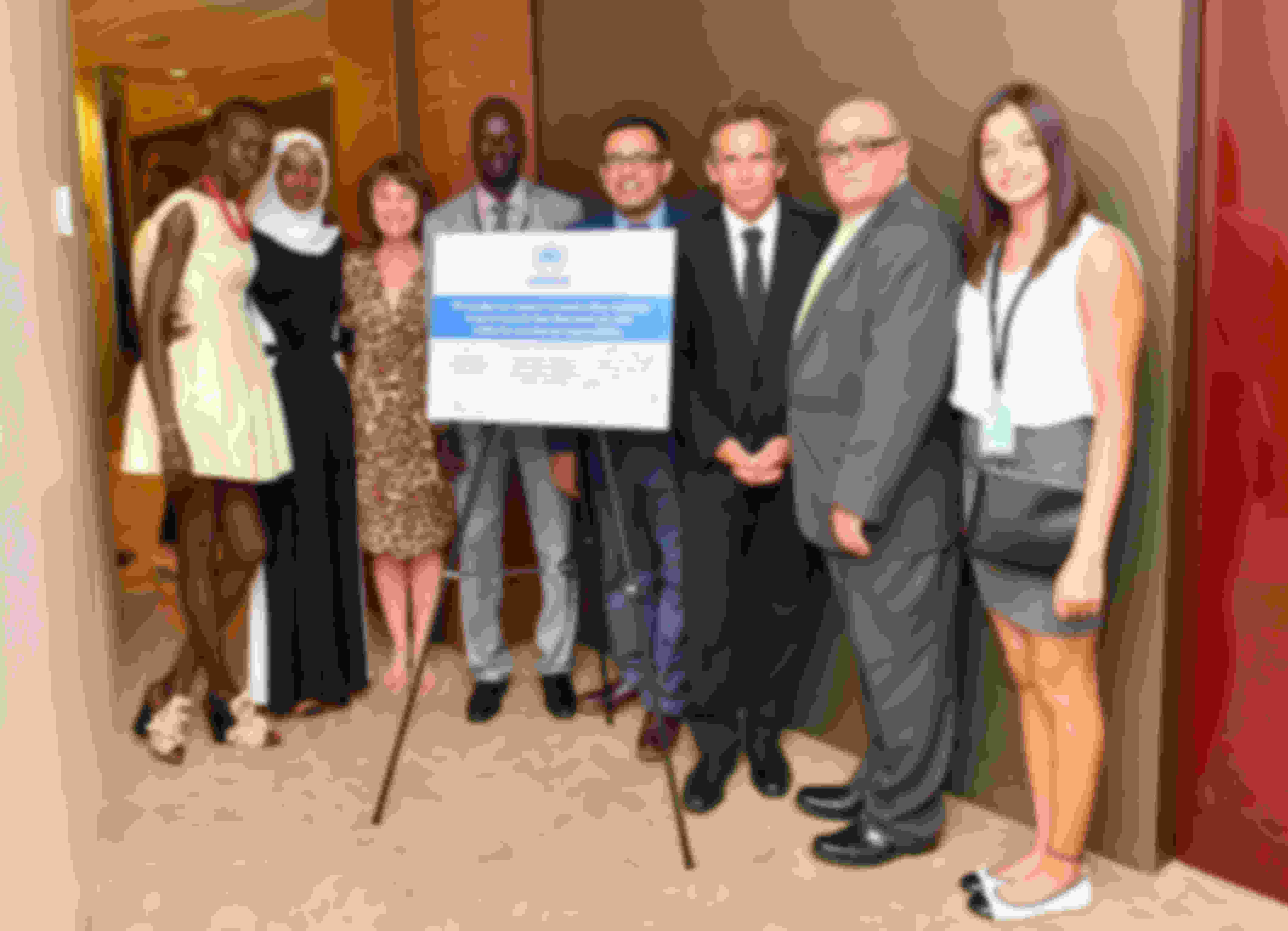 (L-R) Alek Wek, Emi Mahmoud, Ninette Kelly, Yiech Pur Biel, Tika Acharya, Ben Stiller, Esmail Dezhbod, and Yusra Mardini attend the 2016 UNHCR #WithRefugees petition handover at UN General Assembly Hall in New York City. (2016 Getty Images)
Despite undertaking this extra responsibity, Mardini maintained her training and was selected as the IOC Refugee Team flag bearer for the Tokyo 2020 Olympics in 2021.
Instead of going into the event chasing gold, this time her focus was on being a beacon of hope for displaced people around the world.
Yusra Mardini joins the IOC Refugee Olympic Team
"The IOC Refugee Olympic Team ensures that any talented athlete from around the world has the chance to compete at the Olympics," she said.
_"_We have every skin colour that you can think of. You have every nationality, you have every gender. You have people who went through rough journeys but are still there.
"When I think about the Olympics, I think about a peaceful place where it's only about sport. When you stand on the start block, whether it's swimming, volleyball, basketball, whatever, you do not care where the other person comes from. It's just team red and team blue.
"I've seen people from two countries that have so much conflict walk together as friends and this is what sport is about. This is what the Olympics is about
"The Olympics, and the Refugee Team have changed my life and will stay with me and with so many athletes forever."
Yusra Mardini: How the Olympics changed my life forever